Regenyal Super Idea KIT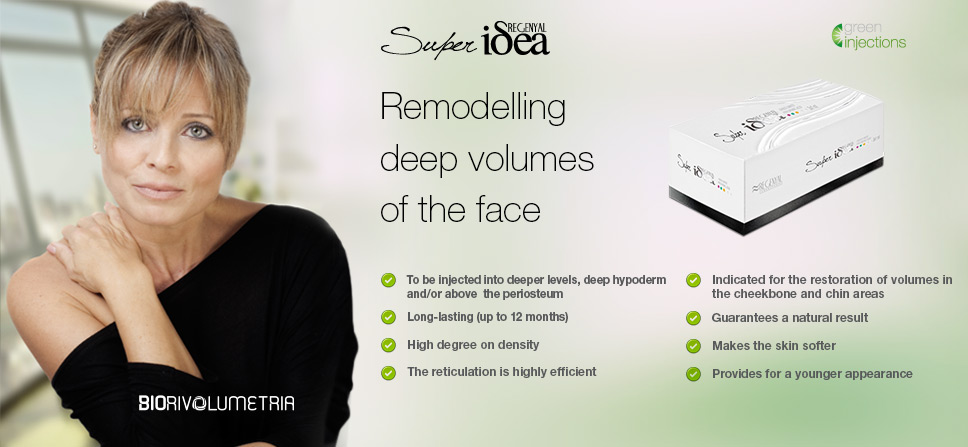 Extrusion force of Regenyal Super Idea
The different extrudibility profiles show that there is a higher degree on reticulation in Regenyal Super Idea than in Regenyal Idea, using a reference needle 27 G 13 mm (Becton Dickinson).

Depth of the injection
– DEEP HYPODERM
– ABOVE THE PERIOSTEUM
INJECTION TECHNIQUE
Regenyal Super Idea can be injected with a needle, as well as with a 25 G 13 mm cannula. In both cases the product has to be injected into deeper layers:
• DEEP HYPODERM
• ABOVE THE PERIOSTEUM
The injection technique differs, as it has to be appropriate for each area treated, and, can be either in bolus (single or multiple) or linear with retrograde and uniform release.
Upon finishing the correction procedure, gently massage the area treated.
MANUFACTURING TECHNOLOGY:
REGENYAL SUPER IDEA is a mono-phase gel obtai- ned through a long-lasting cross-linking process at low temperatures (gentle cross-linking).
By varying the cross-linking parameters (time and temperature) and the concentration of the two molecu- lar weights of Hyaluronic Acid (1 million Dalton + 2 million Dalton) it is possible to obtain a highly concen- trated product with low content on BDDE.
The amount of BDDE used is 30 per cent lower than in the majority of other products, available on the market, having the same degree of viscosity.
This innovative manufacturing method is covered by an INTERNATIONAL PATENT.
Hyaluronic Acid
The Hyaluronic Acid used for the manufacturing guarantees for a maximum quality standard in terms of raw material purity; in particular, the complete absence of nucleic acids and proteins stands for SUPERIOR QUALITY and ABSOLUTE SAFETY.
The degree of sophistication obtained in our laboratories enables us to obtain a highly efficient and reliable biorivolumetria product.
INDICATIONS:
VOLUMETRIC AUGMENTATION OF CHEEKBONES
FRONTAL MALAR AREA
CORRECTION OF DEPRESSED NASAL ANGLE
RE-DEFINITION OF THE MANDIBULAR CONTOURS
PLASTIC CORRECTION OF THE CHIN
RHINOPLASTY
INJECTION POINTS
DEEP HYPO-DERMA
ABOVE PERIOSTEUM
DEEP HYPO-DERMA AND ABOVE THE PERIOSTEUM