Regenyal Idea Bio-Expander
Regenyal Idea BIO-EXPANDER is a remarkable Biorivolumetria product, that enables a complete rejuve- nation of the face through volumetric correction and tissue re-structuring. The product integrates perfectly and restores natural shapes in an extraordinary manner.
his product is to be injected into the subcutaneous layer. The skin improves in terms of elasticity, hydration, turgor, stimulation and recovery of the adipose tissues. Among the adipocytes there are mesenchymal stem cells and pre-adipocytes that expose their CD-44 receptors. The bio-interactive portion of HA influences the pre-adipocytes by letting them differentiate into adipocytes and, thus, regenerate the fat compartment. But this is not all, as the derma is influenced and improved, too.
Regenyal Idea BIO-EXPANDER is indicated in the treatments of HYPO-VOLUMETRIC DE-STRUCTURINGS (HD)
MANUFACTURING TECHNOLOGY
Regenyal Idea Bio-Expander is a mono-phase gel obtained through a long-lasting cross-linking process at low temperatures, "gentle cross-linking". Slow mixing allows for the cross-liking agent (BDDE) to spread better and in a more uniform manner. The amount of BDDE used is 30 per cent lower than in the majority of other products, available on the market, having the same degree of viscosity. In addition, for the manufacturing of BIO-EXPANDER three molecular weights of Hyaluronic Acid are used, at 1M, 2M and 500K Dalton; the latter corresponding to 10 per cent of free and intercalated HA. The differently long HA chains allow for the best calibration of the product's viscosity.
The innovative manufacturing method is covered by an International Patent.
GENTLE CROSS LINKING:

By mixing two molecular weights of HA a 3D extracellular root with optimized viscosity, is obtained.
INTERCALATED FREE HYALURONIC ACID
1 One cross-linked layer alternates with one free layer
2 The intercalated HA is protected from enzymatic degrading and is released slowly



INGREDIENTS:
| | |
| --- | --- |
| Cross-linked Hyaluronic Acid | 25 mg/g |
| Phosphate buffer; Water for injection solutions | 1g |
MAIN PROPERTIES:
VOLUMIZING
RE-STRUCTURING
REGENERATING
TREATMENT AREAS:
CHEEKS
LOWER ZYGOMATIC AREA
JAW AND CHIN
GENITAL AREA
MODE OF USE: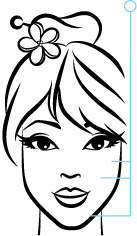 NATURAL RE-SHAPING OF FACIAL VOLUMES
MICRO-CANNULA 37mm 27 G
Designed specifically to be used with micro-cannula, the product spreads perfectly within the tissues following the natural shapes of the face.
As big amount of water are attracted, the product immediately BIO-EXPANDS rebalancing the volumes of the face.
In addition, the presence of free Hyaluronic Acid provides for the re-structuring of tissues.
BEFORE & AFTER:
It is recommended to repeat the treatment every 6 months.
DOWNLOAD BROCHURE: