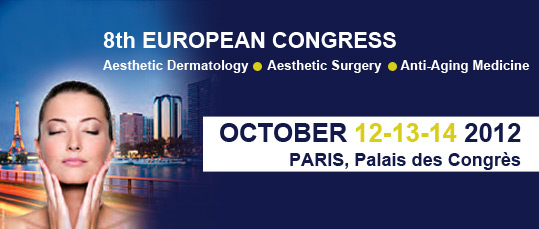 There could have been no better place than Paris to pleasantly proceed with commitments taken for the autumn season. From 12th to 14th October the French capital hosted the 8th Edition of the EMAA – European Masters in Aesthetic & Anti-Aging Medicine, we obviously could not miss.
Around 2700 participants from all over the world came to visit the 90 booths of Companies exhibiting at the event and to learn about the latest achievements in the field of Aesthetic Medicine.
Certainly the lovers of live sections and workshops were spoilt for choice. A series of scientific reports and debate sessions were held thanks to the participation of well-known professionals of the field.
Our newest research – the Bio-revolumetry, that offers a range of injection treatments aimed at facial rejuvenation – generated great interest among medical specialists and distributors.
Prevent and above all intervene – in order to avoid that the signs of time alter expressions, smiles and skin properties, – is possible today. We have chosen to work in full compliance with naturalness and respect the health of patients. In fact, our products comply with the Green Injections Standard, through which it is guaranteed that they are safe, and composed of highly pure and re-absorbable substances.
The congratulations we received from medical professionals, – for having made the beauty and sustainability possible, – left us satisfied and even more confident of our choices.
With the Congress over and the magnificent Palais des Congrès in Paris left behind, we made our return to the base full of new ideas to be developed and shared with you shortly.