BIORIVOLUMETRIA makes it is possible to COMBAT AGEING through AUGMENTATION of VOLUME and DERMAL AND HYPODERMAL STIMULATION.
When a face gets older the adipose compartments move and becomes thinner, which, in some cases, causes asymmetries of the face. The lack of a structural support, on its turn, causes a relaxation of soft tissues, that makes the aged face look hypo-trophic and loose.
RESTORATION OF VOLUMES AND BOOSTING OF A TISSUE RESTRUCTURING PROCESS
A cross-linked and an intercalated slow-release types of HA – are closely combined in the Biorivolumetria products:
CROSS-LINKED HA performs a structural volumizing function
INTERCALATED SLOW-RELEASE performs a bio-interactive action of receptor stimulation

The Biorivolumetria products are mono-phase gels manufactured with a long-lasting cross-linking process at low temperature – "gentle cross-linking" (FIG.1). The slow mixing allows for the cross-linking agent (BDDE) to widespread better and in a more uniform manner. The amount of BDDE used is 30 per cent lower than in the majority of other products with the same degree of viscosity available on the market. Moreover, in the case of BIO-EXPANDER three molecular weights of hyaluronic acid are implemented: at 1million, 2 million and 500 thousand Dalton; the latter corresponds to 10 per cent of native and intercalated HA (FIG.2). Differently long HA chains allow for a better calibration of the product's viscosity.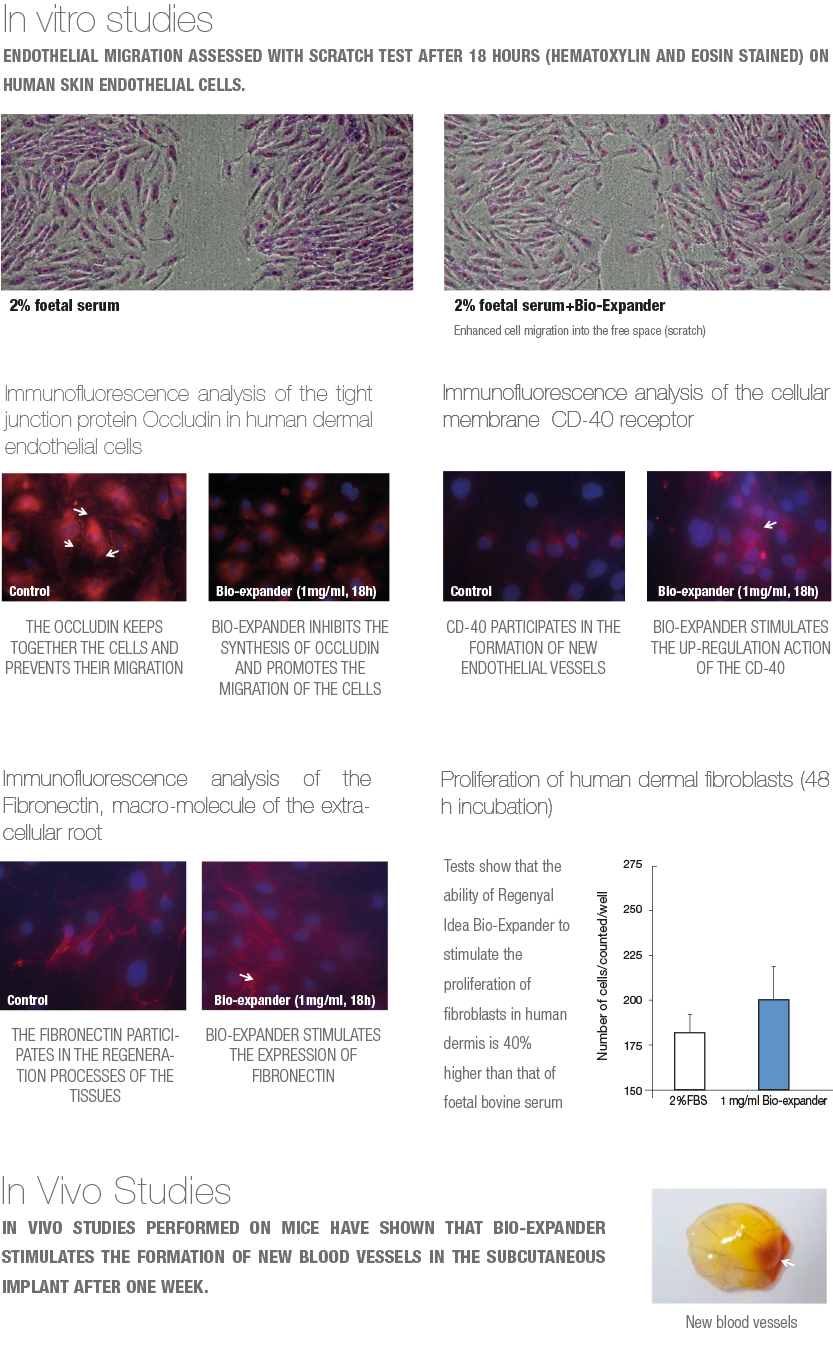 The face, in its morphological variations, has peculiar properties linked to the distribution of volumes across various areas, such as the bone and muscular structure and compartmental fat. The age-related physiognomic alterations are compromised by:
A progressive reduction of fluid in the junction and extra-cellular spaces
A structural alteration of the dermal and epidermal configuration
When choosing a biorivolumetria product for a patient, the FACIAL HYPO-VOLUMES.
These can be divided into:
LOCAL HYPO-VOLUMES
HYPO-VOLUMETRIC DE-STRUCTURINGS
LOCAL HYPO-VOLUMES (LH)
FILLING
RECEPTOR STIMULATION
ELASTICITY
YOUNGER PATIENS
THE CONSTITUTIONAL ASPECT PREVAILS
SOFT AND BONE TISSUES ARE NOT OR ARE POORLY INVOLVED

The hypo-volumetric aspect prevails over the de-structuring, whereby the latter is in its early or a little developed stage. In addition, a correct hydration and extra-cellular osmolarity are found.
HYPO-VOLUMETRIC DE-STRUCTURING (HD)
DIFFUSIVITY
HYDRATION
SOFTNESS
FLEXIBILITY
RECEPTOR STIMULATION
OLDER PATIENTS
MORE WIDESPREAD HYPO-VOLUMES
INVOLVEMENT OF DERMAL-HYPODERMAL BONE STRUCTURES

The reduction of the hypodermal layer is more widespread and is related to an advanced damage of the dermal structure and to a reduced concentration of fluid inside the extra-cellular compartment.
3 concepts in the name
Bio-Ri-Volumetria
BIO – BIOCOMPATIBLE AND BIO-ABSORBABLE SUBSTANCES
RI – RE-GENERATION AND RE-STRUCTURING
VOLUMETRIA – CREATION OF NEW VOLUMES
How was it possible to reach this target?
HIGHLY PURE HYALURONIC ACID
The HYALURONIC ACID supplied by FIDIA FARMACEUTICI, stands for the maximum quality standard of the manufacturing process in terms of raw material purity; in the specific, the complete absence of nucleic acids and proteins guarantees for:
– SUPERIOR QUALITY
– ABSOLUTE SAFETY
DOWNLOAD BROCHURE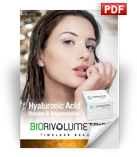 DOWNLOAD LEAFLET