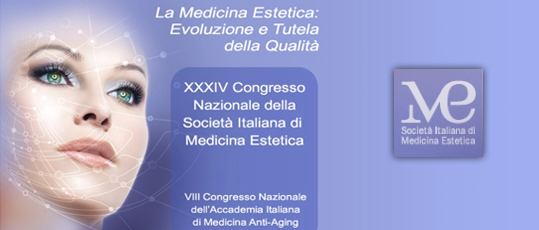 From 10th to 12th May Rome will undoubtedly  become the capital of Beauty.
In fact, the Cavalieri Hilton Congress Centre will be hosting the thirty-fourth Edition of the National Congress of the Italian Society of Aesthetic Medicine.
Numerous workshops, scientific reports will be held, and world-famous medical specialists will contribute to the event.
We would like to announce the scientific report "Bio-Revolumetry techniques through Hyaluronic Acid injections for aesthetic rejuvenation and volume restoration" held by Dr. A. Mamak, a Turkish cooperator of Regenyal Labotatories and Phitogen Holding. The report will be held during the session: Fillers in Aesthetic Medicine – I, scheduled for the 10th May from 9:30 a.m. onwards, in the Michel Pistor Hall.
Our precious collaborator Dr. A. Alessandrini will be contributing with important interventions of his, starting with the scientific report on "Anatomy & Filler: Analysis of Anatomic Changes in an Ageing Face for a Proper Positioning of the Filler when Correcting Wrinkles, Folds and Volumes", scheduled for 11th May at Michel Pistor Hall within the session on Facial Rejuvenation: a Volumetric Approach.
Afterwards, within the session on Filler in Aesthetic Medicine -IV, held in the Igor Danischuk Hall, Dr. A. Alessandrini will be reading his report "LIP ZONES: the Secret of Beautiful Lips. When and where the Product Should be Placed". At the afternoon session Filler in Aesthetic Medicine – V, Dr. Alessandrini will be speaking of "BIO-REVOLUMETRY and facial ageing: hypo-dermal volumizing and skin lifting. A 3-year follow up by an international working group".
Phitogen Holding is pleased to invite you to our stand in the Area Expo where qualified personnel will be available, for any clarification regarding treatments and products. We have lots of new creations to offer, do not miss this opportunity!
http://www.lamedicinaestetica.it/CongressoSIME/Indice.asp