Gel Solutions 25% 35% 50% 70% (Sweet Skin Professional)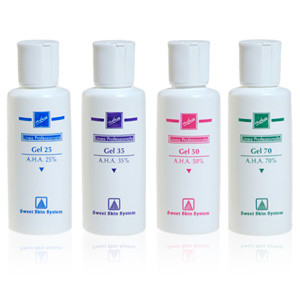 Products used with the SWEET SKIN SYSTEM technique to treat wrinkles, acne, blemishes, dehydration, hyperkeratosis, stretch marks, cellulite, small acne scars. The action induced reduces the thickening of the horny layer, consolidating it.
Moreover it activates the precursors of the Glycosaminoglycans (GAG) and of the mechanisms that regulate the energetic cellular metabolism, both at the level of keratinocyte as well as at that of fibroblasts; favours the distribution of other specific active principles.
The scale of concentrations offered allows for a range of solutions suitable for the type of skin to be treated and for the degree of reaction to the active principle.
| | |
| --- | --- |
| Bottle | 125 ml |
| Gel Solutions: | A.H.A 25% – 35% – 50% – 70% |
Additional Information
| | |
| --- | --- |
| Gel A.H.A. | 25% , 35% , 50% , 70% |