International Patent
Related to the invention of a particular mono-phase gel obtained through a special long-lasting cross-linking process at low temperatures (gentle cross-linking). The slow mixing allows for a better and more uniform spreading of the cross-linking agent (BDDE).
The result is a homogeneous gel that spreads and integrates within the tissues and that performs better than common particle gels.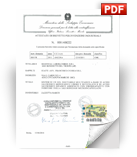 Synthesis of a high biocompatibility injectable gel (filler) based on cross-linked monophasic sodium hyaluronate and intercalated linear multifractionated sodium hyaluronate.